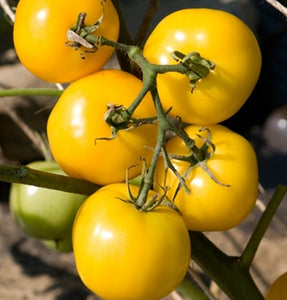 Tomato 'Taxi' (Solanum Lycopersicum) Vegetable Plant Heirloom, 10 Seeds
These beautiful, large, bright yellow tomatoes grow in large quantities on its small, compact vine. Incredibly fast growing and with a heavy yield that lasts for 3-4 weeks, these tomatoes are highly valued for their culinary use, as they are mildly flavoured and sweeter than regular tomatoes, making them perfect for salsas, lunch boxes, soups, and stews, if not eaten fresh or dried for future use. Ideal for hot and humid climates.
Growing: Planting season: Year round in tropical climate; In temperate climates - Early spring, starting the seeds indoors 6-8 weeks prior the last frost date and transplanting outdoors after the danger of last frost is gone.
Soil temp: 75-85F (+23-29C);
Soil: fertile, well draining clay or loam soils that are rich in organic matter with a pH of 6-6.8.
Sowing depth: 1/8-1/4in (0.3-0.6cm);
Sowing space: 12-18in (30-45cm);
Row spacing: 4-6in (10-15cm) centers. For greenhouse tomatoes maintain 4 square ft/plant. For pot planting keep one plant per pot;
Light: Full sun/partial shade;
Watering: regular watering to keep the soil moist (not wet).
Fertilising: recommended.
Harvest:  65 days.
All our seeds are NON GMO, 100% Natural & Fresh, Free From Harsh Chemicals & Destructive Compounds.
Contains 20 seeds.