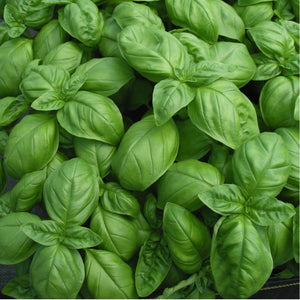 Sweet Basil 'Italiano Classico' (Ocimum basilicum L.) Herbal Heirloom Plants
Annual, ornamental, highly aromatic hearbaceus plant, used for culinary and decorative purposes. Plant reaches 12-24in (30-45cm) tall and sets meaty, deep green color aromatic leaves and lovely white flowers. Contains sweet, beautifully scented, warm flavour, which adds a lovely flavourful touch to pizzas, pastas, egg dishes, meat dishes, sandwiches etc.Can be used fresh, dried or frozen. Very fast and easy growing, maturing in 2-3 months after planting. Makes wonderful container plants, are great companions with tomatoes. Can be grown indoors or outdoors.
Growing: Planting season: year round in warm climates; early spring in temperate climates, starting seeds indoors, 6 weeks prior the last spring frost date or direct seeding after the danger of last frost is gone and soil is workable. Soil: light fertile, rich in organic matter soil. Sowing depth: 1/4in (0.6cm) deep. Optimum soil temp. is 70F (+21C) for the best growth. Spacing: 10-12in (25-30cm) apart. Light: full sun. Watering: regular to keep the soil moist but not wet. Fertilizing: recommended. Pinch out the flower heads as soon as they appear to make sure the leaves will continue growing. 
All our seeds are NON-GMO, Untreated, 100% Natural & Fresh, Free From Harsh Chemicals & Destructive Compounds. We carefully select the seeds only from trusted suppliers to meet the highest requirements of quality and pack them in individual hermetically sealed bags for protection against moisture, light, temp. changes and much longer viability.