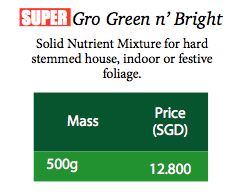 SuperGro Green n' Bright
Regular price $12.80 Sale
SuperGro nutrients is a concentrated mixture that is provided as a single powdered mix which slowly release nutrients to trees, allowing for easy and infrequent application. This nutrient can be used for Lucky Bamboos/KaiYun Zhu/Money Plant and other hard stemmed house/indoor/festive plants.
Upon dilution contains 300:100:200 ppm NPK + trace elements Water Soluble Fertilizer for use in foliar feeding, soil drenching, hydroponics & indoor plants. Add one teaspoon full of fertilizer to one litre of water and add this to the soil in the pot once a month – it is that simple! Simple & Professional!
Please contact us at 96785297 if you wish to purchase this in a much larger quantity.