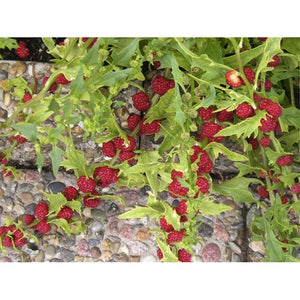 Strawberry Spinach (Chenopodium capitatum) Herbal Plant Seeds
Strawberry Spinach (Chenopodium capitatum) - annual, ornamental culinary herb growing up to 50cm (19.6in) tall. Red delicious berries and nutritious leaves look very unique and attractive. Berries are used to make wine, jams, as natural dye, while leaves are used for salads, garnishes, soups etc. Very fast and easy growing, not picky about the soil. Does best in warm, bright place, in full sun/partial shade. Requires regular watering.
All our seeds are NON GMO, Untreated, 100% Natural & Fresh, Free From Harsh Chemicals & Destructive Compounds. We carefully select the seeds only from trusted suppliers to meet the highest requirements of quality and pack them in individual hermetically sealed bags for protection against moisture, light, temp. changes and much longer viability. 
Contains 300-360 seeds.