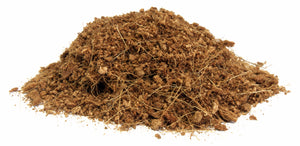 Hi-Quality Coconut (Coco) Peat
Regular price $17.00 Sale
Organic eco-friendly media with high water retention. Used in pot mixes to avoid soil hardening. Ideal for vegetables and fruits.
Coco peat is used for a wide range of hydroponics crop production all over the world. Following are some of the crops and plants use this method tomato, cucumber, egg plant, zucchini, strawberry, melons, carnation, rose etc. Hydroponics crop production using Coco peat has lot of advantages over the other traditional soil media.
Fully environment friendly growing medium and no harmful impact on the environment.
Excellent quality and high yield vegetable and cut flower crops
Since Coco peat has high water holding capacity, it provides a buffer in high temperatures.
By adding some organic compounds to Coco peat, root growth can be speed up and also it offer some natural resistance to plant disease.