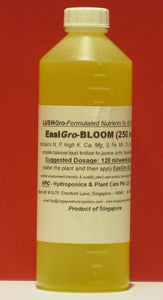 Easi Gro Bloom - 1 litre
Regular price $32.00 Sale
EasiGro Bloom contains N, P, high K, Ca, Mg, S, Fe, Mn, Zn, Cu, B an Mo.
It is a complete balanced liquid fertilizer for flowering plants like Jasmine, Orchid, Bougainvillea.
EasiGro range is a handy hassle-free pre-mixed "diluted" formulation for amateurs, small time growers & gardeners.
Suggested Dosage: 120 ml/week/plant. Water the plant and then apply EasiGro BLOOM.
For professionals, frequent users and serious growers & gardeners, therei is a concentrated version of "LUSHGro" range which is 100 times more concentrated than EasiGro range. It comes in two parts as A Solution and B Solution and you need to mix them and dilute them in equal parts.
A 1-litre set of A&B LUSHGro solution can be mixed to make 100 litres of EasiGro solution.